Thank you BancorpSouth for your Seventh Year as our season sponsor!
It's All Happening on Broadway . . . 201 North Broadway that is!
TCT is in transition to a new web site at www.tct.ms.
For a new months we will maintain both websites as we transition information to the new site.
If you have trouble finding information
or have suggestions email [email protected].
TCT's
The Santaland Diaries,
was the winner of the
Best Production
awardat the Southeastern Theatre Conference
in Mobile on March 8th.
Todd Barnett won
Outstanding Achievement in Acting
and
Tommy Green won
Outstanding Achievement in Costume Design.
Congrats to the cast and crew!
Front row l-r Tom Booth, Director and Todd Barnett, Actor
Second row l-r Mallory Davidson, Stage Crewe & Tech; Bronwyn Teague, Sound and Light Design;
Meredith Martin, Assistant Director; Suzanne Oakley, Stage Crew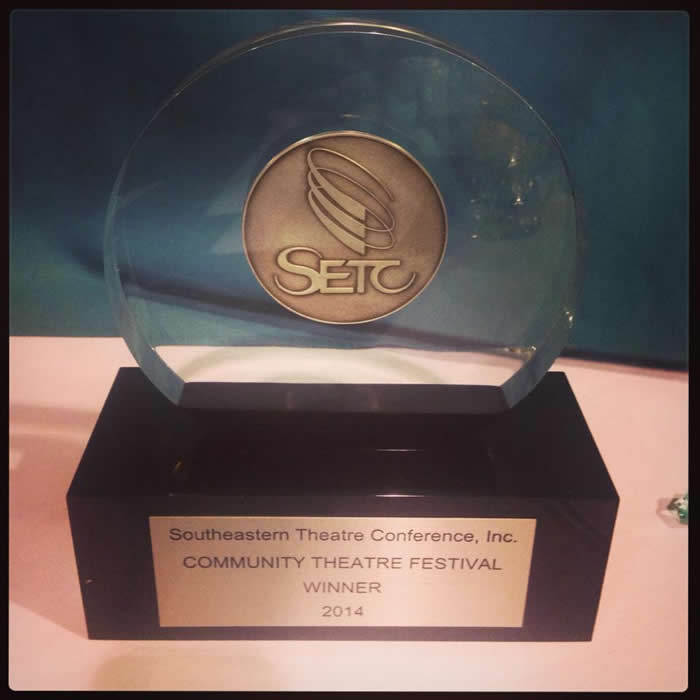 The one man show was awarded Best Production and
Scenic Design awards,
as well as Best Actor for Todd Barnett,
at the Mississippi Theatre Association Community Theatre Festival.
Click link
for
2013-2014
TCT
The Lyric and TCT is very excited about our new balcony seats!
Our beautiful new seats.
FYI-we have renamed the balcony sections D, E, and F.
They were A, B, and C, the same as downstairs, which led to confusion.
Thanks to Girl Scouts Georgia McGee
and Regan Plunkett for their volunteer service
to TCT and the Lyric.
For their work they received the Silver Award.
Regan did a painting of the Lyric and Georgia is holding the DVD of the archive photos they scanned of TCT early history. They also work with Sophie Houin, intern, on the
costume rooms.
Congratulations to the cast and crew of
The 25th Annual Putnam County Spelling Bee
for their awards at SETC 2013!
Runner-up Best Production
Ensemble Acting
Costumes
Outstanding Physical Moment for Alex Hargett.
Cast and crew with SETC awards.
Pre-show MTA in dressing room with cast and crew
After MTA awards ceremony with all the hardware!
THE LYRIC KREWE
The Lyric Krewe is the fund raising and volunteer support team of the Tupelo Community Theatre.
The Krewe membership is made up of TCT patrons, season-ticket holders, and occasional theatre-goers who simply appreciate the value of TCT to the Tupelo community.
Membership is free and is open to anyone interested in supporting TCT by volunteering during regular season performances, marketing performances, and helping with fund-raising opportunities.
JOIN THE LYRIC KREWE TODAY
WOULD YOU LIKE TO SERVE ON ONE OF THE FOLLOWING COMMITTEE?
PUBLICITY
The Publicity Committee will oversee poster distribution, marketing/promotion of Krewe events, and any other marketing needs in support of TCT.
HOSPITALITY
The Hospitality Committee will secure ushers for all TCT performances, assist with sponsor night events, patron events, and any other events
in support of TCT.
PARTNERSHIPS
The Partnerships Committee will oversee Music, Monet & Margaritas, concerts at the Lyric Theatre, Elvis Festival events, DTMSA events,
and any other partnership events in support of TCT.
For more information on how you can participate in the Lyric Krewe,
please contact the TCT office at 844-1935.
We want you involved as a patron, actor, volunteer, backstage or tech worker, committee member or a part of the Lyric Krewe. Just let us know your interest!
Click here to see our most recent newsletter or check for history in our newsletter archives!
To see upcoming auditions and cast lists click here.
Tupelo Community Theatre
The Vision:
TCT—the Model for volunteer theatre
The Mission:
To stimulate, promote, teach, and
develop interest in the dramatic arts
The Guiding Principles:
Achieve professional quality in every TCT production
Be intentionally innovative in all aspects of our mission
Are you our friend on Facebook or following TCT on Twitter?
If not go to the links above to join us.
Thanks for your support, and we look forward to seeing you at another TCT Production!